Designer of the Week: Eero Saarinen!
Posted by Manhattan Home Design on Oct 16th 2018
Designer of the Week: Eero Saarinen!
We've talked a lot about Eero Saarinen but today we're going real deep into the history of this prolific Finnish-American designer, marking every period of his very interesting life with a particular piece of artwork.
But first and foremost, a little history: Saarinen was born in 1910 to genius architect and designer Eliel Saarinen, already a prominent figure in the American (and European) art circles of the time. His mother was Loja Gesellius, a very famous sculptor.
Womb Chair and Ottoman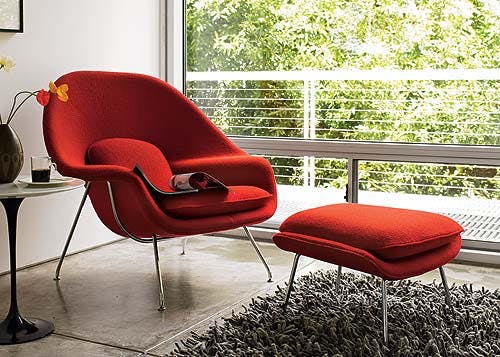 Suggested Item: Womb Chair Replica
Following the footsteps of his father, Eero began studying at the Cranbrook Academy of Arts in Michigan. There he became friends with many designers, including Harry Bertoia, the Eames couple, and Florence Knoll. The last one would give him the idea (and inspiration) for his worldwide-acclaimed Womb chair.
First conceived around 1948, the Womb chair was born from Saarinen's notion that people in general "hadn't been truly comfortable since they left the womb." He was drawn to this conclusion by Florence Knoll's request of a chair that was "like a basket full of pillows," something that was infinitely more comfortable than the regular lounge chairs that existed at the time.
Tulip Table (and chairs)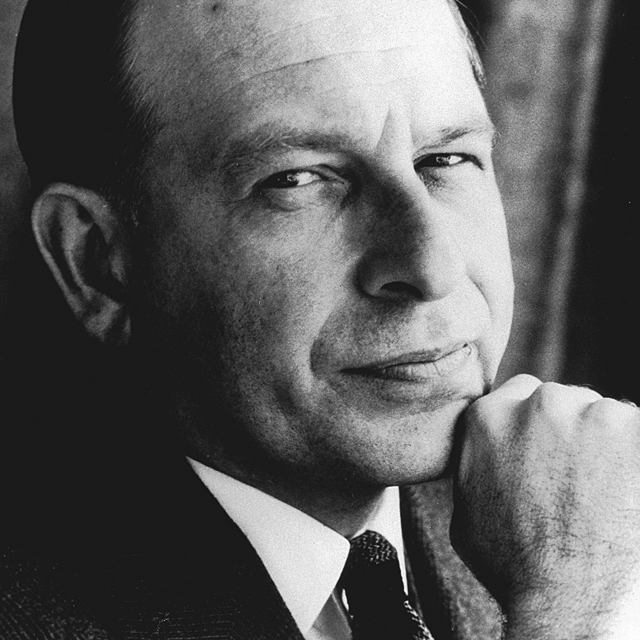 Suggested Item: Tulip Table
Saarinen's style continued to evolve as he delved further into architecture. Many buildings currently bear his designs, and many others were born from plans that he drew. However, he did not venture far from home design.
In 1955, Eero began thinking about chairs and tables. He'd designed lots of them and he seemed to despise them, in a way. He expressed his desire to make those elements "one thing" once again, and began experimenting with single-base chair and table designs.
Suggested Item: Tulip Table Replica
The idea of a tulip flower, a rose-like bulb that springs from a narrow stem, like a wineglass. From these ideas rose the Tulip table and Tulip chair designs. They were futuristic but also naturalistic. Simple, yet solid. They can greatly change a dining space, making it more flexible and sophisticated.
North Christian Church
Saarinen died in 1961, at 51 years old. His last job was a certain return to form while also a return to family values (and maybe a bit of a trip down memory lane). Already a famous figure, he set out to design a new structure for the North Christian Church in Indiana (Columbus, Bartholomew County). His father Eliel had designed an older sister building, the First Christian Church in Columbus.
The structure was completed posthumously in 1964 and is currently without maintenance because of a lack of funding by the Christian Church. The Indiana Landmarks organization recently attempted to raise awareness of this issue by putting it on their 10 Most Endangered list of structures.
Recent Posts
Mid Century Modern vs Minimalistic Furniture

Mid-century modern furniture is more than just a design comeback. It's one of the most south-after styles for luxury-loving people all over the world.
Most Popular
How to find the perfect Coffee Table?

How to find the perfect Coffee Table? A coffee table is something that everyone should have on their living room. Some people buy sideboards, some people even buy nightstands and put them next to the couch,
How comfortable is the Womb Chair, actually?

Eero Saarinen designed the Womb Chair in 1946 after a brief meeting with Florence Knoll at the Cranbrook Academy of Art.
Eames Lounge Chair: Walnut or Palisander Veneers?

Walnut, palisander, santos palisander, veneer, so many names! So little time! What are we talking about today? We're talking about wood, the base, the hard part of the Eames chair (and what makes it an actual